I. Introduction to Thanksgiving Cake Creations
Thanksgiving is a time of gathering, gratitude, and indulging in delicious treats. While traditional pumpkin pies often take center stage during this festive holiday, why not consider adding a touch of creativity to your Thanksgiving dessert table with some delectable cake creations?
Thanksgiving cake creations offer a unique twist on the classic desserts we associate with this special occasion. From stunning autumn-inspired designs to mouthwatering flavor combinations, these cakes are sure to impress your guests and leave them craving for more.
A Celebration of Autumn Flavors
Thanksgiving is synonymous with the flavors of fall – warm spices, rich caramel, tangy apples, and comforting pumpkin. Incorporating these delightful ingredients into your cakes can elevate them to new levels of deliciousness.
You can opt for a moist spiced apple cake layered with creamy cinnamon frosting or a decadent caramel pecan cake that perfectly captures the essence of the season. Alternatively, explore the possibilities offered by pumpkin-flavored cakes infused with hints of nutmeg and clove.
Creative Cake Designs
Thanksgiving is an ideal time to let your creativity shine through visually captivating cake designs that reflect the spirit of autumn and harvest celebrations.
Consider adorning your cake with intricately crafted fondant leaves in vibrant shades of orange, red, and gold. You could also incorporate edible flowers or berries as charming decorations that add pops of color to your dessert centerpiece.
A Twist on Traditional Treats
If you're looking for something different from the usual Thanksgiving desserts but still want to capture their essence in a unique way, consider transforming classic treats into innovative cakes.
Showcase traditional pies like pecan or sweet potato pie by reimagining them as layered cakes. Infuse the flavors of these beloved desserts into moist cake layers and complement them with complementary fillings and frostings.
Gluten-Free and Vegan Options
To accommodate guests with dietary restrictions or preferences, it's always great to have gluten-free and vegan options available on your dessert table.
Explore recipes that use alternative flours like almond or coconut flour for gluten-free cakes. For vegan cakes, experiment with plant-based ingredients such as aquafaba (chickpea water) as an egg substitute or coconut milk for a creamy texture.
II. Traditional Thanksgiving Cake Recipes
Thanksgiving is a time for gathering with loved ones, expressing gratitude, and indulging in delicious food. While pies often steal the spotlight on this holiday, why not switch things up this year by adding a festive cake to your Thanksgiving spread? Below are some mouthwatering traditional Thanksgiving cake recipes that will leave your guests craving for more.
1. Spiced Pumpkin Cake
This classic autumnal dessert combines the flavors of pumpkin, cinnamon, nutmeg, and cloves to create a moist and flavorful cake. The rich cream cheese frosting perfectly complements the spiced layers. Decorate it with caramel drizzle or toasted pecans for an extra touch of elegance.
2. Apple Cider Pound Cake
Incorporate the flavors of freshly pressed apple cider into a dense and buttery pound cake that will make your taste buds sing with delight. The addition of diced apples adds a burst of fruity goodness in every bite while the glaze made from reduced apple cider gives it an irresistible tangy sweetness.
3. Cranberry Orange Bundt Cake
This stunning bundt cake features tart cranberries and zesty orange zest that harmoniously balance each other out. The moist crumb is enhanced by buttermilk, resulting in a delightful texture that pairs well with tea or coffee after the hearty Thanksgiving meal.
4. Maple Pecan Cake
If you're looking for a cake that embodies all things fall, this maple pecan creation is sure to impress your guests' taste buds. With its subtle maple flavor infused throughout the fluffy layers and crunchy pecans adorning the top, each slice is like taking a bite out of autumn itself.
5.Caramel Apple Upside-Down Cake
Put a twist on the classic apple pie by transforming it into an upside-down cake. Slices of caramel-coated apples are arranged at the bottom of the pan, creating a luscious topping once flipped over. The moist vanilla cake batter seeps into the caramelized apples, resulting in a heavenly dessert that begs for seconds.
These traditional Thanksgiving cake recipes offer delightful alternatives to the usual pie fare, adding variety and excitement to your holiday table. Whether you choose to make one or all of these cakes, they are sure to become new favorites and create lasting memories with your loved ones this Thanksgiving.
III. Unique and Creative Thanksgiving Cake Ideas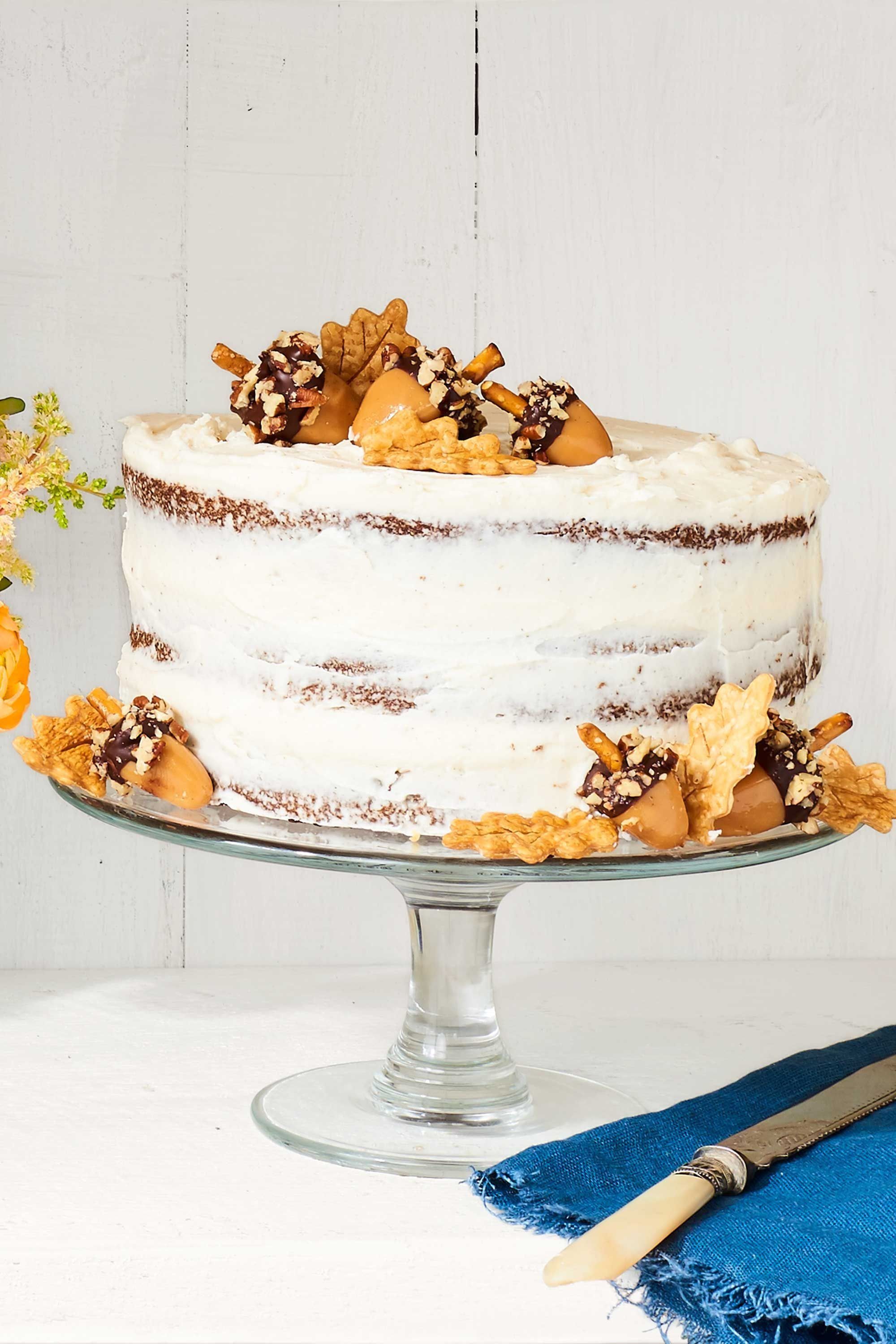 Thanksgiving is a time for gathering with loved ones, expressing gratitude, and indulging in delicious food. And what better way to top off your festive feast than with a unique and creative Thanksgiving cake? Here are some ideas that will not only satisfy your sweet tooth but also impress your guests:
A. Pumpkin Spice Layer Cake
Embrace the flavors of fall with a pumpkin spice layer cake. This moist and aromatic dessert features layers of spiced pumpkin cake filled with creamy cinnamon cream cheese frosting. Decorate it with edible autumn leaves made from fondant or chocolate for an extra touch of seasonal charm.
B. Apple Caramel Drip Cake
If you're a fan of caramel apples, you'll love this apple caramel drip cake. Start with a moist vanilla sponge cake layered with caramel sauce-infused buttercream frosting and thinly sliced apples. Finish it off by drizzling homemade caramel sauce over the top, allowing it to gracefully drip down the sides.
C. Maple Pecan Bundt Cake
Indulge in the rich flavors of maple and pecan with this irresistible bundt cake. The dense yet tender cake is infused with maple syrup and studded generously with toasted pecans throughout. For an elegant touch, dust the finished masterpiece with powdered sugar or create a glaze using maple syrup.
D. Harvest Cornucopia Cupcakes
If you prefer individual portions, consider making harvest cornucopia cupcakes that mimic the traditional symbol of abundance seen during Thanksgiving celebrations – the cornucopia! Bake vanilla cupcakes in ice cream cones to create the shape of mini cornucopias, then frost them in vibrant autumn colors like orange, yellow, and brown using buttercream frosting. Add edible decorations such as fondant fruits, nuts, and leaves to complete the look.
E. Turkey Cake Pops
For a whimsical twist on traditional cakes, try making turkey cake pops. These adorable treats are made by shaping cake crumbs mixed with frosting into small balls, attaching lollipop sticks, and coating them in colorful candy melts. Use edible markers or fondant to create eyes and beaks for the turkeys. Arrange them on a platter to resemble a flock of cheerful Thanksgiving birds.
These unique and creative Thanksgiving cake ideas will not only satisfy your dessert cravings but also add an extra element of delight to your holiday celebrations. So go ahead and impress your family and friends with these delectable treats!
IV. Tips for Decorating Thanksgiving Cakes
Thanksgiving is a time to gather with loved ones and indulge in delectable treats, and what better way to celebrate than with a beautifully decorated cake that captures the spirit of the season? Whether you're an experienced baker or just starting out, here are some tips to help you create stunning Thanksgiving cakes that will impress your guests:
1. Embrace Autumn Colors
When it comes to decorating your Thanksgiving cake, embrace the warm hues of autumn. Use colors like deep reds, oranges, yellows, and browns to give your cake a festive touch that reflects the changing leaves outside.
2. Incorporate Seasonal Elements
Add seasonal elements such as pumpkins, acorns, leaves, or cornucopias to your cake design. These small details can make a big impact and instantly convey the essence of Thanksgiving.
3. Play with Textures
Create visual interest by incorporating different textures into your cake design. Consider using techniques like piping buttercream frosting in various patterns or adding edible decorations like fondant leaves for added depth and dimension.
4. Use Natural Ingredients
Incorporate natural ingredients into both your cake batter and decorations whenever possible. For example, use pumpkin puree or apple cider as flavorings in your cakes, or decorate with fresh cranberries or nuts for an authentic fall-inspired look.
5. Experiment with Flavors
Add unique flavors that are synonymous with Thanksgiving to surprise and delight your guests' taste buds! Consider infusing spices like cinnamon, nutmeg, gingerbread into your cakes for that perfect autumnal taste sensation.
6. Get Creative with Frosting
Choose a frosting that complements your cake design and enhances the flavors. For a traditional touch, cream cheese frosting pairs well with pumpkin or spice cakes, while Swiss meringue buttercream can give your cake a smooth and elegant finish.
7. Personalize Your Cake
Add a personal touch to your Thanksgiving cake by incorporating family traditions or meaningful symbols into the design. It could be as simple as writing a heartfelt message on top of the cake or including an edible representation of something special to your family.
8. Practice Makes Perfect
Remember, decorating takes practice! Don't be discouraged if your first attempt doesn't turn out exactly as planned. Keep experimenting, trying new techniques, and learning from each experience until you achieve the desired result.
With these tips in mind, you're now equipped to create stunning Thanksgiving cakes that will undoubtedly impress your loved ones this holiday season!
V. Thanksgiving Cupcake Creations
When it comes to Thanksgiving desserts, cupcakes offer a delightful twist to traditional treats. These small, individually portioned cakes provide the perfect canvas for creative and festive designs that will impress your guests. Whether you're hosting a Thanksgiving feast or simply want to add some seasonal flair to your baking repertoire, these Thanksgiving cupcake creations are sure to be a hit!
Fall Flavors Galore
Embrace the flavors of fall with delectable cupcake combinations that celebrate autumnal ingredients. Try pairing moist pumpkin spice cupcakes with creamy maple buttercream frosting for a truly indulgent treat. Or experiment with apple cinnamon cupcakes topped with caramel drizzle and spiced whipped cream for an irresistible combination of sweet and tangy.
Turkey Toppers
Add some whimsy to your cupcakes by incorporating turkey-themed decorations on top. Use chocolate candies or fondant cutouts shaped like turkey feathers and place them strategically on each cupcake. Don't forget the adorable turkey face made from colored icing or modeling chocolate! These cute little turkeys will surely bring smiles to everyone's faces.
A Harvest of Colors
Celebrate the vibrant hues of autumn by creating cupcakes that showcase an array of colors reminiscent of falling leaves. Experiment with different shades of orange, yellow, red, and brown in both the cake batter and frosting. You can even sprinkle edible gold or copper dust on top for an extra touch of elegance.
Pie-Inspired Delights
If you can't choose between cake or pie for dessert, why not combine them in one delicious cupcake? Create mini pie-inspired masterpieces by filling vanilla or chocolate cupcakes with gooey fruit fillings such as apple, cherry, or pumpkin pie. Top them off with a dollop of whipped cream or a sprinkle of crumbled pie crust for added texture and flavor.
Kid-Friendly Fun
Get the little ones involved in the Thanksgiving baking fun by making cupcakes that are both tasty and visually appealing. Consider creating turkey face cupcakes using colorful candies for eyes, an orange candy slice for the beak, and licorice strings as feathers. You can also let their imaginations run wild by providing various toppings like sprinkles, gummy worms, or edible glitter to decorate their own Thanksgiving-themed cupcakes.
VI. Frequently Asked Questions about Thanksgiving Cake Creations
Q1: Can I customize the design of my Thanksgiving cake?
A1: Absolutely! At Thanksgiving Cake Creations, we understand that every customer has unique preferences and requirements. We offer a wide range of customization options, including personalized designs, flavors, and sizes to ensure your cake perfectly matches your vision.
Q2: How far in advance should I place my order?
A2: To guarantee availability and timely delivery for your Thanksgiving celebration, we recommend placing your order at least two weeks in advance. This will allow our team enough time to create the perfect cake tailored to your specifications.
Q3: What flavors are available for Thanksgiving cakes?
A3: Our bakery offers an extensive selection of delicious flavors for you to choose from. Whether you prefer classic options like vanilla or chocolate or more unique combinations like pumpkin spice or caramel apple, we have something to suit every taste bud.
Q4: Can you accommodate dietary restrictions or allergies?
A4: Yes! We understand the importance of catering to different dietary needs. Our skilled bakers can create gluten-free, vegan-friendly, or nut-free cakes upon request. Simply let us know about any specific requirements when placing your order.
Q5: Do you deliver cakes?
A5: Yes! We offer convenient delivery services within a specified radius from our bakery location. Delivery fees may vary depending on the distance and complexity of the order. Please contact our customer service team for more information regarding delivery options in your area.
Q6: How should I store my Thanksgiving cake before serving it?
A6: To ensure the freshness and quality of your cake, we recommend storing it in a cool, dry place away from direct sunlight. If you have leftovers, securely wrap the cake in plastic wrap or store it in an airtight container to maintain its moisture.
Q7: Can I order additional desserts or treats along with my Thanksgiving cake?
A7: Absolutely! We offer a variety of delectable desserts and treats that can complement your Thanksgiving cake. From cupcakes and cookies to pies and pastries, our menu provides plenty of options to satisfy everyone's sweet tooth.
Q8: What is your cancellation policy?
A8: We understand that plans can change unexpectedly. If you need to cancel your order, please notify us as soon as possible. Depending on the timing and circumstances surrounding the cancellation, there may be a cancellation fee involved.
Q9: Do you offer refunds if I am not satisfied with my cake?
A9: Customer satisfaction is our top priority at Thanksgiving Cake Creations. In the rare event that you are not completely satisfied with your cake, please contact our customer service team immediately so we can address any concerns or issues.
Q10: How long will my Thanksgiving cake stay fresh?
A10: Our cakes are made with high-quality ingredients to ensure optimal taste and freshness. When stored properly, typically in an airtight container at room temperature, our cakes can stay delicious for up to five days after delivery or pick-up.
Shannon Buchanan is a professional chef with a passion for cooking and baking. She studied culinary arts and hospitality management at the Culinary Institute of America and has since gone on to establish herself as an expert cake decorator. Her signature specialty is creating gravity-defying cakes that are almost too beautiful to eat. As a chef, Shannon places a great emphasis on the use of locally-sourced ingredients along with globally-influenced flavors in the dishes she creates. She loves to create unique recipes and experience new flavors with each meal she creates. Shannon also has a strong focus on sustainability, working to reduce food waste and incorporate ingredients into her recipes. In addition to cooking, Shannon also has a passion for art and loves to design cakes that are not only tasty but visually stunning as well.