1. Introduction to Pastry Cream Fillings: Flavors and Techniques
Pastry cream is a versatile and delicious filling that adds richness and flavor to a variety of pastries. Whether you're making eclairs, cream puffs, or fruit tarts, pastry cream is the perfect companion to elevate your desserts.
The Basics of Pastry Cream:
Pastry cream, also known as crème pâtissière, is a thick custard-like filling made from eggs, sugar, milk or cream, and flour or cornstarch for thickening. It has a smooth texture and can be flavored with various ingredients such as vanilla bean seeds or extracts like almond or lemon.
Flavor Variations:
One of the best things about pastry cream fillings is the wide range of flavors you can experiment with. From classic vanilla to exotic options like matcha green tea or lavender-infused variations – there's something for every palate.
Fruit-Inspired Delights
If you want to add fruity notes to your pastries, consider incorporating fresh fruits into your pastry creams. Strawberry-infused pastry creams are perfect for summer treats while tangy passionfruit variations add an exciting twist.
Gourmet Infusions
To create sophisticated flavors in your pastry creams, try infusing them with herbs and spices. For example, steeping rosemary in warm milk before adding it to the egg mixture will give your pastries an aromatic touch that pairs exceptionally well with citrus-flavored desserts.
Rich Chocolate Indulgences
If you're a chocolate lover (who isn't?), chocolate-infused pastry creams will be your go-to choice. Dark chocolate, milk chocolate, or even white chocolate can be melted and incorporated into the custard base to create a luscious filling that complements any dessert.
Techniques for Perfect Pastry Cream
To ensure your pastry cream turns out silky smooth every time, there are a few essential techniques to keep in mind:
Tempering the Eggs: Gradually adding hot milk to the egg mixture while whisking prevents the eggs from curdling and ensures a smooth consistency.
Cooking over Low Heat: Slowly cooking the mixture over low heat helps thicken the cream without scrambling the eggs. Patience is key!
Straining for Perfection: Straining your pastry cream through a fine-mesh sieve removes any lumps or bits of cooked egg, resulting in an incredibly smooth texture.
2. Understanding the Basics: What is Pastry Cream?
Pastry cream, also known as crème pâtissière in French, is a versatile and classic filling used in various pastries, desserts, and cakes. It is a creamy and smooth custard-like mixture that adds richness and flavor to baked goods. Made from simple ingredients like milk, eggs, sugar, and cornstarch (or flour), pastry cream provides a luscious texture with a hint of sweetness.
The Role of Pastry Cream:
One of the main purposes of pastry cream is to provide moisture to pastries while enhancing their taste. It acts as both a filling and an integral part of many desserts. The velvety consistency makes it ideal for layering between cake sponges or piping into delicate pastries like éclairs or cream puffs.
Versatility in Flavors:
While the traditional vanilla-flavored pastry cream remains popular, it can be easily customized to suit various culinary creations. By infusing additional flavors such as chocolate, coffee, citrus zest, or extracts like almond or coconut into the milk during preparation, you can create endless flavor combinations that will excite your taste buds.
Serving Suggestions:
Pastries filled with pastry cream are often served chilled for maximum enjoyment. They pair exceptionally well with fresh fruits like berries or bananas for added freshness and contrast in taste. You can also top them off with a dusting of powdered sugar or drizzle them with melted chocolate for an elegant finishing touch.
Tips for Making Perfect Pastry Cream:
Making pastry cream requires precision and attention to detail to achieve optimum results every time. Here are some tips to help you create the perfect pastry cream:
Tempering the eggs: To prevent the eggs from curdling, gradually add a small amount of hot milk mixture to the beaten eggs while whisking vigorously. This helps to raise the temperature of the eggs slowly.
Cooking consistency: Ensure that your pastry cream reaches a thick and smooth consistency during cooking. It should coat the back of a spoon and leave a clean trail when you run your finger through it.
Cooling process: Once cooked, transfer the pastry cream to a bowl and cover it with plastic wrap directly touching its surface. This prevents a skin from forming on top as it cools.
Chilling time: Allow enough time for your pastry cream to chill in the refrigerator before using it as filling. This will help it set properly and maintain its shape when incorporated into pastries or cakes.
3. Exploring Different Flavors: A Creative Twist on Traditional Pastry Cream Fillings
When it comes to pastry cream fillings, there is no shortage of options to tantalize your taste buds. While traditional flavors like vanilla and chocolate are always crowd favorites, why not take a creative twist and explore different flavors that can elevate your pastries to the next level? Here are some unique ideas for pastry cream fillings that will leave your guests craving for more.
A Hint of Citrus
Add a burst of freshness to your pastries by infusing citrus flavors into your pastry cream fillings. Whether it's the tangy zest of lemon or the aromatic notes of orange, citrus-based creams bring a delightful brightness that complements various baked goods perfectly. Imagine biting into a fluffy éclair filled with creamy lemon-infused pastry cream – pure bliss!
Nutty Delights
If you're looking for a richer and nuttier flavor profile, consider incorporating nuts into your pastry cream fillings. From classic choices like almond and hazelnut to more adventurous options like pistachio or macadamia, these nut-infused creams add depth and texture to any dessert. Picture a velvety napoleon layered with pistachio cream – an indulgent treat that will impress even the most discerning palates.
Tropical Paradise
Transport yourself to an exotic destination by experimenting with tropical flavors in your pastry cream fillings. Think coconut, pineapple, mango, or passion fruit – these vibrant fruits bring an element of adventure and evoke images of sunny beaches with every bite. A tropical fruit tartlet filled with luscious mango-infused pastry cream is sure to transport anyone straight into paradise.
Savory Sensations
Who said pastry cream fillings can only be sweet? Don't be afraid to think outside the box and experiment with savory options. A creamy herb-infused filling can add a surprising twist to your savory pastries, making them stand out from the crowd. Imagine a flaky puff pastry filled with a delicate basil-infused pastry cream alongside roasted vegetables – an unexpected delight that will leave everyone talking.
Decadent Chocolate Variations
No list of pastry cream fillings would be complete without mentioning chocolate. While traditional chocolate pastry cream is undeniably delicious, why not take it up a notch by exploring different variations? From dark and intense flavors like espresso or chili-infused chocolate to silky white chocolate or even salted caramel, these decadent choices will satisfy any chocoholic's cravings.
By venturing beyond the traditional flavors and experimenting with unique combinations, you can transform your pastries into showstopping delights. Whether it's adding a citrusy tang, incorporating nutty textures, embracing tropical vibes, exploring savory options, or indulging in various chocolate variations – let your creativity run wild and surprise your taste buds with these creative twists on traditional pastry cream fillings!
4. Techniques for Making Perfect Pastry Cream Fillings: Tips and Tricks for Success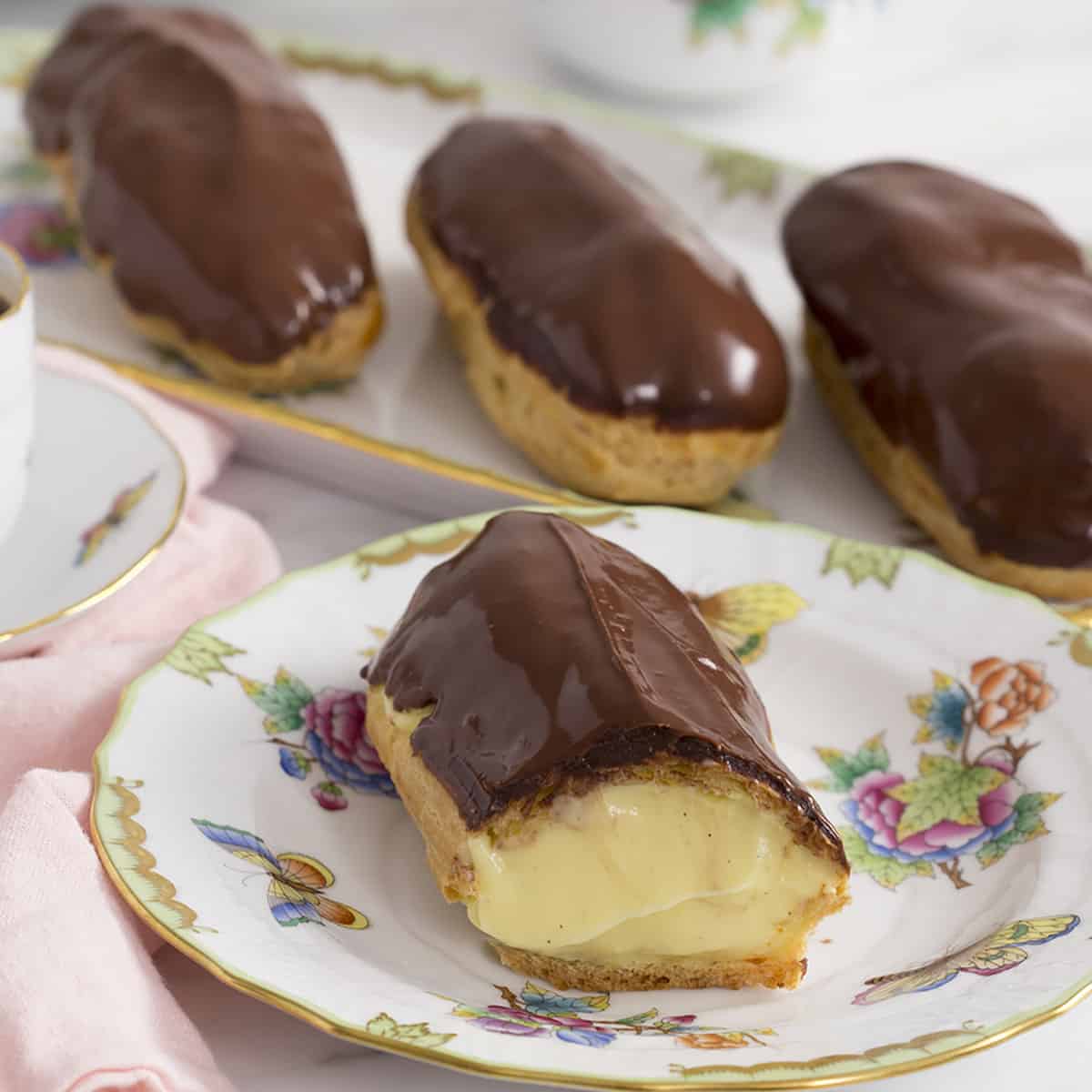 Pastry cream fillings are a delightful addition to any pastry or dessert. They add a smooth and creamy texture, as well as a burst of flavor that complements the surrounding baked goods. To achieve perfect pastry cream fillings every time, follow these tips and tricks:
Finding the Right Balance Between Creaminess and Stability
One of the challenges when making pastry cream fillings is finding the right balance between creaminess and stability. You want your filling to be rich and velvety, but also firm enough to hold its shape when piped or spread onto pastries.
To achieve this balance, start by cooking your custard base until it reaches the desired thickness. Be careful not to overcook it though, as it can become lumpy or develop an unpleasant texture. Once cooked, strain the mixture through a fine-mesh sieve to remove any lumps or impurities.
To enhance stability without compromising on creaminess, consider adding gelatin or cornstarch to your recipe. These ingredients will help thicken your filling further and give it more structure.
Incorporating Flavors into Your Pastry Cream Fillings
The beauty of pastry cream fillings lies in their versatility when it comes to flavors. Whether you prefer classic vanilla bean or adventurous fruit combinations like raspberry-mango, there are endless possibilities for creating unique fillings that suit your taste buds.
To infuse flavors into your pastry creams successfully, use high-quality ingredients such as real vanilla beans or fresh fruits rather than artificial extracts. The natural essence will elevate the taste profile of your fillings significantly.
You can also experiment with different spices like cinnamon or nutmeg for added depth and complexity. Just remember to strain any solids out before using the filling to ensure a smooth texture.
Proper Storage and Handling
After preparing your perfect pastry cream fillings, it's essential to store and handle them correctly to maintain their quality.
Always let your fillings cool completely before transferring them into airtight containers or piping bags. This prevents condensation from forming, which can affect the texture of the filling.
If you plan on storing the fillings for later use, refrigerate them promptly. Pastry cream fillings can typically last up to three days in the refrigerator when stored properly. Be sure to label each container with its flavor and date of preparation for easy reference.
Creative Presentation Techniques
To take your pastries or desserts to the next level, consider exploring creative presentation techniques for your pastry cream fillings.
You can use piping bags fitted with different tips to create intricate designs on cakes, éclairs, or cream puffs. Alternatively, try layering multiple flavors of pastry creams within a dessert for an exciting burst of taste in every bite.
Remember that practice makes perfect when it comes to mastering these presentation techniques. Don't be afraid to experiment and have fun while showcasing your delicious creations!
5. Pairing Pastry Cream Fillings with Different Desserts: Versatility at its Best
Pastry cream fillings are not only delicious on their own, but they also have the incredible ability to enhance a wide variety of desserts. The creamy and luscious texture of pastry cream can be paired with various sweet treats, creating an explosion of flavors in every bite. Let's explore some of the best ways to pair pastry cream fillings with different desserts.
A Match Made in Heaven: Pastry Cream and Fruit Tarts
When it comes to pairing pastry cream fillings, fruit tarts are an excellent choice. The combination of the buttery tart shell, refreshing fruits, and velvety pastry cream creates a harmonious blend that will leave your taste buds craving for more. Whether you choose berries, tropical fruits, or citrusy delights, the sweetness and tanginess of the fruit perfectly balance the richness of the pastry cream.
The Classic Duo: Pastry Cream and Profiteroles
If you're a fan of classic French pastries, then pairing pastry cream with profiteroles is a must-try combination. These light and airy choux pastries filled with creamy goodness take indulgence to another level. The delicate flavor profile of the pastry cream complements the slightly crispy exterior and soft interior of profiteroles beautifully.
An Irresistible Combination: Pastry Cream-Filled Donuts
For those who enjoy a touch of decadence in their desserts, filling donuts with pastry cream is an absolute game-changer. The contrast between the fluffy doughnut base and rich custard filling creates a taste sensation like no other. Whether you prefer powdered sugar-coated or glazed donuts, injecting them with your favorite flavored pastry cream will take them to new heights of deliciousness.
Indulgence Redefined: Pastry Cream and Layered Cakes
Layered cakes are a classic choice for celebrations, and adding pastry cream between the layers elevates them to a whole new level. The smooth and creamy texture of the pastry cream adds moisture, richness, and depth of flavor to each slice. Whether you're making a traditional vanilla cake or experimenting with different flavors like chocolate or fruit-infused cakes, pairing them with pastry cream fillings is guaranteed to impress your guests.
A Twist on Tradition: Pastry Cream in Puff Pastries
Puff pastries are known for their flaky and buttery texture, but when combined with pastry cream fillings, they become even more irresistible. From classic Napoleons to innovative twists like Danish pastries or turnovers, the marriage of crispiness from the puff pastry and silky smoothness from the pastry cream creates an unforgettable taste experience.
Pastry cream fillings offer endless possibilities when it comes to creating delectable desserts. Whether you prefer fruity tarts or indulgent donuts, incorporating this versatile filling into your favorite treats will undoubtedly elevate them to new heights of flavor and decadence. So go ahead and explore these pairings – your taste buds will thank you!
6. Frequently Asked Questions about Pastry Cream Fillings: Your Queries Answered
Pastry cream fillings are a delightful addition to any dessert, bringing a creamy and luscious taste to your favorite treats. As you explore the world of pastry cream fillings, you may have some questions in mind. In this section, we address the most frequently asked queries to help you gain a better understanding of these delectable delights.
1. What is pastry cream?
Pastry cream, also known as crème pâtissière, is a thick custard-like filling made from milk, eggs, sugar, and other flavoring ingredients such as vanilla or chocolate. It is commonly used in pastries like éclairs, tarts, and cakes.
2. How do I make pastry cream at home?
To make pastry cream at home:
In a saucepan, heat milk until hot but not boiling.
In a separate bowl whisk together egg yolks and sugar until well combined.
Add cornstarch to the egg mixture and whisk until smooth.
Slowly pour the hot milk into the egg mixture while continuously whisking.
Pour the mixture back into the saucepan and cook over medium heat until thickened.
Remove from heat and stir in butter and vanilla extract for flavor enhancement.
3. Can I use different flavors in my pastry cream?
Absolutely! One of the great things about pastry creams is their versatility when it comes to flavors. You can infuse them with various extracts like almond or lemon zest or add melted chocolate for a rich chocolatey taste.
4. How long does pastry cream last?
Pastry cream can be stored in the refrigerator for up to three days. Make sure to cover it with plastic wrap touching the surface to prevent a skin from forming.
5. Can I freeze pastry cream?
While it is possible to freeze pastry cream, it may affect its texture and consistency once thawed. It is best enjoyed fresh, but if you choose to freeze it, make sure to thaw it overnight in the refrigerator and whisk vigorously before using.
6. Can I use pastry cream as a filling for cakes?
Absolutely! Pastry cream can be used as a delicious filling between cake layers, adding moisture and flavor. Just make sure your cake layers are sturdy enough to hold the creamy filling.
7. Is pastry cream gluten-free?
The basic recipe for pastry cream is gluten-free since it doesn't contain any wheat flour or gluten-containing ingredients. However, always double-check ingredient labels when using store-bought versions or adding flavorings that may contain gluten.
8. How do I prevent my pastry cream from curdling?
To prevent curdling, ensure you temper your eggs properly by slowly adding hot milk while whisking continuously. This gradual process helps bring the egg mixture's temperature closer to that of the hot liquid without causing curdling.
These frequently asked questions aim to provide you with useful information about pastry creams so that you can create delightful desserts with confidence and culinary skill!
Shannon Buchanan is a professional chef with a passion for cooking and baking. She studied culinary arts and hospitality management at the Culinary Institute of America and has since gone on to establish herself as an expert cake decorator. Her signature specialty is creating gravity-defying cakes that are almost too beautiful to eat. As a chef, Shannon places a great emphasis on the use of locally-sourced ingredients along with globally-influenced flavors in the dishes she creates. She loves to create unique recipes and experience new flavors with each meal she creates. Shannon also has a strong focus on sustainability, working to reduce food waste and incorporate ingredients into her recipes. In addition to cooking, Shannon also has a passion for art and loves to design cakes that are not only tasty but visually stunning as well.